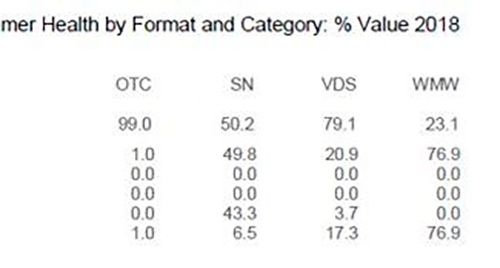 Consumer Healthcare online in Latin America
BeOn Argentina
08 AUG 2019
Ecommerce keeps moving forward around the globe. Online sales for CPG, in particular, increased a 20,3% globally during 2018, representing 5,1% of all channels sales. This number is expected to reach a 10% in 2025. This means that it doubled its value.
In Latin America, even though online FMCG industry presents an incipient development compared to other regions, sales keep growing year by year. According to Nielsen, in 2018 online sales represented more than 1,5% of total in México, more than 1% in Argentina and Colombia, and 1% de Brazil.
Online Consumer Healthcarel
FMCG covers different categories that differ from each other. Moreover, development and growth levels vary in every country. The healthcare industry is in an early stage of development but data shows that it is growing in many countries. According to IRI WorldWide and Kantar consultancy agencies, health category grew 81% so far in 2019, positioning itself as one of the fastest growing online categories at a global scope. In addition, online penetration increased from 25% to 27% during 2018. Important categories such as Alcoholic beverages and Fresh edibles also grew a 2%.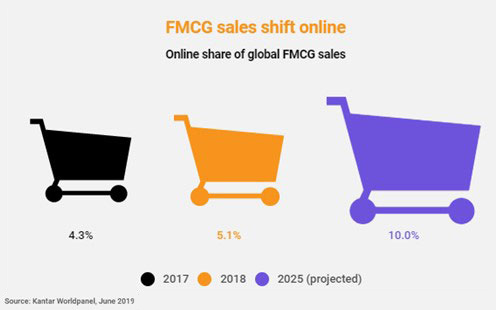 The health care industry in particular currently presents an encouraging scenario for the development of only sales. One of the reasons is the boom of information: since consumers are only one click away medical information, today 81% do online research before making an important purchase. Moreover, estimations indicate that 1 out of 20 online searches are healthcare related.
In this sense, it is noteworthy that most consumers believe that, through the available information and the new apps, it is possible to live a healthier life. This preference for healthy habits, as the expansion of vegan and vegetarian diets, is another reason that triggers this category. In other words, consumers now focus on preventive care. One example of this situation is the grow that vitamins and dietary supplement presented: according to IRI, in 2019 vitamins ranked first in FMCG global online sales, with a value of $7,6 billion dollars.
Online Health Care in Latin America
Although all categories share some common characteristics, they present differences in every country. We will analyze the Argentinian, Chilean and Mexican cases in the following lines.
The pharmaceutical industry in Argentina
According to Euromonitor, from 2013 to 2018, in stores sales fell steadily in Argentina. This channel remains the most important, but lost 5,8 points during that period. On the contrary, online sales grew 1,8 points during the same period, and now represents almost a 5% of total sales.


The tendency towards a healthier life and preventive products also increased due to the rise of prepaid medicine costs. This also translated into more self-medication and a greater inclination towards generic drugs. Even though is moderate, vitamins and dietary supplements presented a sustained growth. This was triggered by a bigger storage capacity of pharmacies, dietaries stores and vitamin-specialized retailers.
As for eCommerce, sport supplements had a great performance: half of salles were done in non-store platforms, and almost 90%, online. Vitamins already weight 3,7% of total online sales. Even though this number seems small compared to sport supplements, vitamins are gaining online penetration globally and have great chances for success.
In addition, pharmacies participation in Last Milers platforms increased during last year. Farmacity, Farmacia Azul and Open Farma already possess their own online store in these platforms.
Chile: the healthcare issue
The Chilean pharmaceutical market is a very concentrated one. Only three pharmacies -Salcobrand, Cruz Verde and Farmacias Ahumada- capture almost 60% of market share. The industry is now in a particular moment because the Congress is debating the "Second pharmaceutical drugs law", which could potentially change the scene. The two main characteristics of this law project are to legalize sales in supermarkets and boosting generic drugs disponibility in pharmacies.
Due to this context, eCommerce is seen as a great alternative, particularly for smaller pharmacies and laboratories, which could be able to avoid higher commissions, compensate their lack of power negotiation and reduce logistics costs.
During 2018, Farmazón -the first online farmacy-, Fracción.cl and Telemol appeared in the Chilean market. Groupon also stand out in this channel and had a great performance. Additionally, some financial changes boosted eCommerce. For example, the main Chilean bank transformed all RUT accounts into VISA accounts; the possibility to pay online was also complemented by the rise of prepaid credit cards.

Between 2013 and 2018, in store sale remained stable, however, online sales went from representing 0,6% of total sales in 2013 to 1,3% in 2016, meaning that they doubled. As well as in Argentina, vitamins and sports supplements were the most important ones for the online channel, with a weight of 4,7% and 5% respectively.
México and the Healthy trend
Mexican consumers also presented a tendency towards healthy products and preventive medicine. In this market, where international players predominate, Herbalife remains the leader, followed by Bayer and Sanofi Aventis. In 2018, the Mexican Genomma started to integrated the ranking of leader companies.

Online sales in this country had a considerable growth: the market share is still low but it presents a steady increase. Also, in only one-year, online penetration in the country went from 70% in 2016 to 79% in 2017. More than half of Mexicans bought online at least once. Special events like AMVO's Hot Sale confirm the growth and consolidation of eCommerce.
Contrary to the Argentinean and Chilean case, traditional store sales went from 74,2% in 2013 to 75% in 2018 in Mexico. Online sales grew from 0,8% to 1,5%.
To sum up, these three countries present their own particularities, but they all meet in the same fact: online sales for Healthcare are growing. The progress of eCommerce in the region, altogether with consumers' preferences for healthier practices make a perfect combo for the development of the online channel. It is up to laboratories and pharmacies to seize this opportunity.
Follow us to keep up to date with our news